Skip Navigation
Website Accessibility
Due to changes implemented March 1, 2023 on US shipments to EU countries, we are no longer able to send orders to addresses in EU countries. Sorry for this change.

Sale on Westalee Ruler Feet Kits (#1 and #2) Save 20% !!
Savings applied to Westalee Bundle Specials too. Click here to get started.

FEATURED:


Have you seen our PTD Flower Template Sets? You can use them to create flowers in 3 different sizes or you can use them for more extravagant designs like the feathered wreath below:



...or like the mandala below:




Create these designs and more with the PTD Flower Template Sets, available in 1/4 inch thickness as well as in 3mm thicknesses. Click here to learn more about creating these lovely designs.


****************************************************************************************************************************************************


Check out the Clarity Ruler Foot by Accents in Design. It's made of clear acrylic, so you can see right through it! This property eliminates the visibility issues posed by other ruler feet, and you can even leave the ruler foot on as you begin your free motion "fill in" work! Here's a short video to tell you more about it:








********************************************************************************************

Quilt Suspension System #2 by Patsy Thompson Designs:
Have you seen our machine quilting suspension system? It literally suspends your quilt in the air, rendering the quilt esentially weightless. This means no pulling or dragging against you as you quilt! Designed with the sit-down home quilter in mind, this system makes free motion quilting much, much easier. The photo below shows the System 2 set up . Watch our short video below that shows you how the quilt suspension system works! Note that the System 2 in the photo and video is shown with two eyebolts in each arm...this is for demonstration purposes only to show that the ONE eyebolt, that comes with each arm, can be repositioned if needed.

See our video below that shows how to use system #1, which we no longe carry:
And this next video shows how suspension system #2 works with various machine set-ups:





...and you can find quilt suspension system #2 in our store by clicking here.



And if you're interested in ruler work, have you seen our new Ruler Work Starter Packs? These are the perfect way to begin your ruler work adventure because they will allow you to create a wide variety of simple and complex designs. They're available in both the traditional 1/4 in long arm ruler thickness as well as the 3mm thinner thickness for those working with the low or medium shank Westalee Ruler Feet.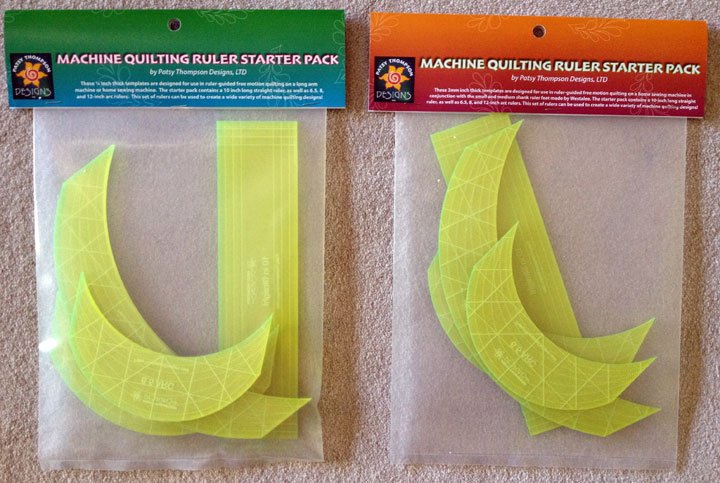 You can find these ruler starter packs in our online store by clicking here.

*******************************************************************************************************************


SHIPPING/ORDERING FAQ'S


Wondering what

shipping

will cost for your order? Simply put the item(s) in your cart, then click on Checkout. There you will enter your Zip Code under shipping options, and the shipping costs will show beneath. (If you live outside the US, you will also need to enter the country where indicated). You will not be asked for any billing information to learn the shipping cost. Often, you will have a choice of First Class or Priority, depending on the weight of the order. Of note, your shipping charges reflect what the USPS and UPS charge to mail your package. We do not profit on these charges. If we find a less expensive alternative, such as Flat Rate, we will opt for that and refund you the difference.

Most shipping is through US Postal Service, and we ship both domestically and internationally to most countries.
That includes ground addresses, PO Boxes, APO addresses. UPS is an option for us now, and you may find that it is less than the USPS charge for your order. Typically larger, heavier packages that have to travel far are less expensive by UPS.

Many countries charge import duty and VAT fees. For example, Royal Mail in the UK charges a VAT on any item over

£

15 (about $20US) PLUS a flat fee of

£8

to collect the VAT. Any item over

£

135 ($170 US) triggers an import duty. So be aware of these additional charges for which you will be responsible, and will add to the overall cost of your order. We have no influence over these international fees.

After you choose your items and shipping option, you will be directed to the PayPal site automatically.
There you can either sign in with your PayPal account or choose to pay with a credit card.
After successful payment, the screen will show an electronic receipt from PayPal and Patsy Thompson Designs.
You will also get a confirmation from our store and one from PayPal sent to your email address of record.
If all this occurs, you had a successful purchase; if not, please contact us.